What does artist development look like in web3?
While the space is still early - there are a lot of unanswered questions about how an artist grows in a nascent industry.
In this article - we'll highlight what artists can do to take their project to the next level.
For more context on artists in web3, I recommend reading this Bankless article on finding the XCOPY of Music NFTs.
Artists in Web3
What does it mean to be an artist in web3?
An artist in web3 is one who is actively minting their music on platforms like Sound, Catalog, Decent, Zora and/or Lens.
These artists have dropped at least 3 times, and are actively building a community of collectors around their work.
My guess is there are roughly 500 artists who currently fall into this category.
While there are many artists who have minted one song, I want to focus on those who are continuously minting - but hitting a ceiling when doing so.
Collector Expectations
There are different collector mentalities.
Some collectors buy Music NFTs purely to support the artist. They enjoy a song, and they collect it to directly support the art.
If you make great music, you should never have an issue finding people to support you.
Realistically - there are more collectors looking to collect with the expectation of a higher resale than those supporting altruistically.
To easily define this, if someone collects a Music NFT for 0.01 ETH, they hope that it will be worth more, and that they can sell it if they chose to.
Given how early the market is, there isn't much liquidity for the vast majority of artists in web3.
This means that even if you sell 35 NFTs at 0.02 ETH and the "floor price" is 0.1 ETH - it might not be real because there has never been a sale at that premium price.
So - even more important than a high floor price is volume.
Collectors like to know that a song is desirable and that new people are constantly getting involved, even if that is at roughly the same price that they purchased at.
Here's why this is important.
Artist Development
It's tough to be an artist in web3.
There's an expectation to release new music, market it on Twitter, join Spaces, talk to collectors and somehow manage all the expectations of being an artist outside of web3.
Here are some suggestions to get a leg up.
Artists as Collectors
Collecting is an essential part of music in web3.
If you want to get more eyes, collect your own work or the work of artists around you.
The more you are seen doubling down, the more collectors want to double down on you.

This doesn't mean you have to spend an egregious amount of ETH - but the more you give back the more you receive.
This can take the form of buying an edition of one of your own drops.
If you really want to go above and beyond, reward your collectors by sweeping your own floor.
Buy some of your own NFTs off the secondary market and feed the bots.
The more people win by collecting your music, the more they're likely to come back and collect again.
Collector Chats
Many artists are setting up collector chats on Telegram using Guild.
With Guild, you can set up a token-gated chat room for those who have collected your music.
Once set up, you can add a role which allows anyone to join who has collected any of your NFTs.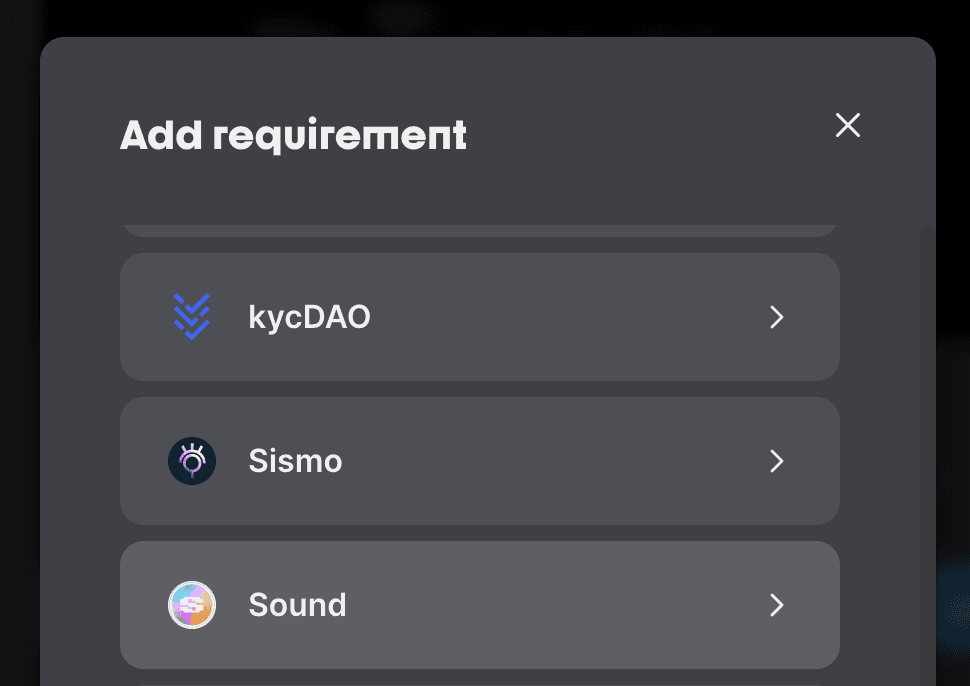 This is your home base to steer conversation.
Take time to reach out to your collectors and get them in the chat. Your goal should be to have people actively checking your group because there is a consistent stream of engaging conversation from other collectors in the space.
Reward your chat with airdrops, exclusive music and giveaways.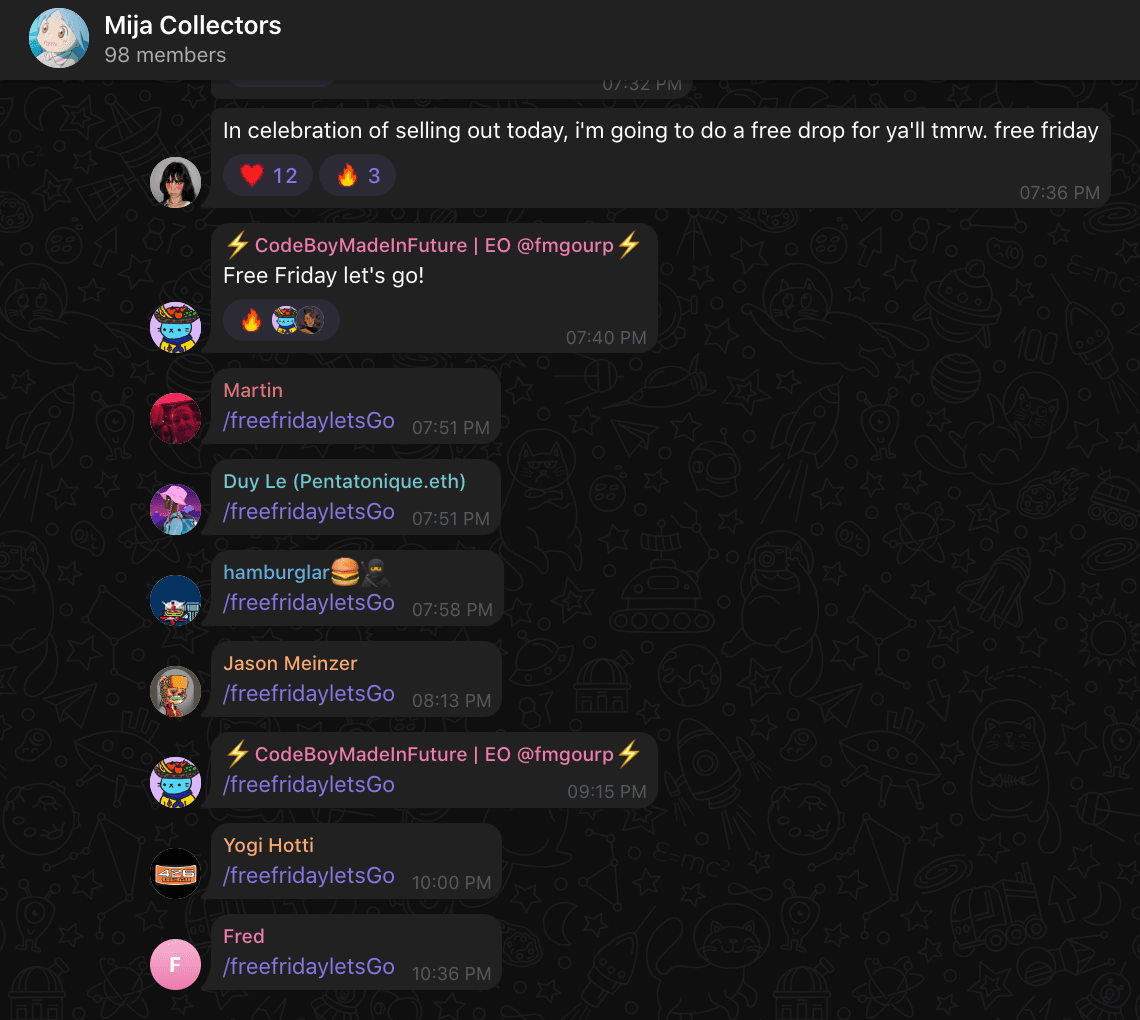 If you're an artist on Sound - check out this step by step guide by Mija on how to airdrop Music NFTs to your collectors.
The collectors active in your chat are your most valuable members. Prove that they are being rewarded beyond someone who collects passively but doesn't make the effort to jump in the chat.
Collabs
Take time to make music with other active artists in web3.
The more you cross pollinate your audience, the more likely it is that you're going to gain new collectors.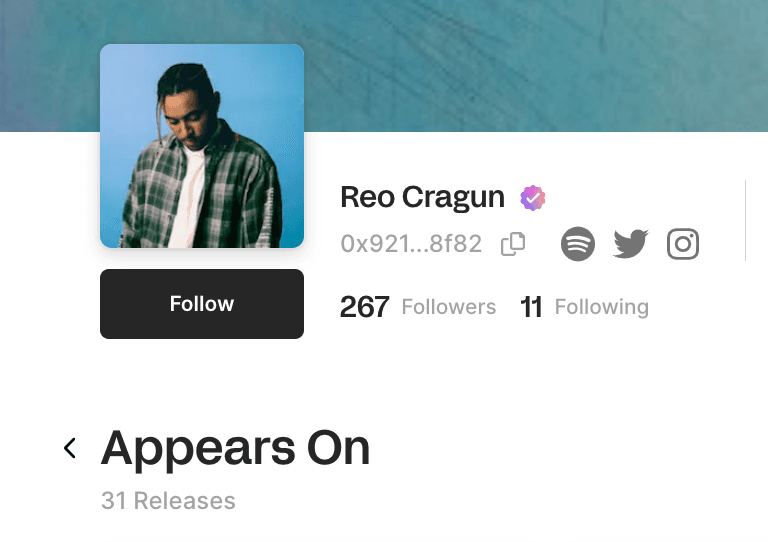 Be a vessel for getting your colleagues into the space, and build a brand for yourself as someone who's across many different projects.
As you do - you'll notice that your 0xSplits account will grow, and so will your sales.

Tell Your Story
There are a lot of artists in web3, and there are only going to be more in the future.
Let people know how they should think about your project.
Are you an artist going for accessibility?
Are you an artist treating your music as fine art?
Should people expect you to be releasing demos on a frequent basis, or should they expect bigger hallmark projects over time?
Giving your collectors a compass of how to think about your project is a great way to set expectations.
Don't be afraid to ask for help or guidance - ask your collectors what stands out the most about your music and what they'd like to see more.
The more you ask for feedback, the more involved your collectors will feel, and the more they will collect in turn.
Credibility in Web3
Now let's assume you've done all the above.
This is the real trough that I want to dive in.
I see a lot of artists who are minting their songs and doing well. They have a collector chat and have told their story.
They're grossing ~1 ETH per single and being consistent in their relationships with their collectors.
The next step is to show that you are an active member of the web3 community at large - beyond your individual project.
Composability is the idea that different platforms can plug into one another and create a larger pie.
With relation to web3 music, think about how your music exists in the wider landscape.
Here are some examples.
The list goes on and the reality is there is no one right answer for how to build credibility.
It's the consistency of being present across all these platforms that starts to add up.
Build a Team
As your project starts to grow - your overhead is going to become a lot higher.
Who else is involved beyond you?
What are the key elements of your project that you can delegate to a member of your community?
The more people you have putting their full attention on your project, the more likely you are to come up with new and creative ideas.
And when you have creative ideas, your team can help you establish and execute these campaigns so you can focus on what you do best - making great music.
I recently started the Web3 Manager Launchpad to source candidates for artists looking to expand their team.
If you're interested in connecting with web3 managers - DM me to learn more about the individuals in the cohort!
Hallmark Projects
What separates you from everyone else?
For artists releasing consistency, there comes a time to separate yourself from the pack.
Instead of releasing a new single every week, think about how you can package a couple songs together to tell a larger story.
For most collectors, being a part of your growth is a core driver of their continued support.
They want to support you as you expand your audience and prove that they were there from the beginning.
Don't be afraid to bring other artists in on the process - as the collective sum is always greater than the individual.
Remember - collectors share a ton of overlap.
Don't live on an island.
If you're looking at your next hallmark project and trying to find a home for it - reach out and ask some of your closest friends what you can do together to uplift one another.
And keep in mind - the process of doing it is more important than the outcome.
Criteria Case Study
Let's examine the rollout of Criteria - an 8-track project from Daniel Allan and Reo Cragun.
Prior to the announcement, Daniel and Reo each teased the project with a prequel on Sound.
They offered 100 editions as a free mint, with a free airdrop to everyone active in their collector chats.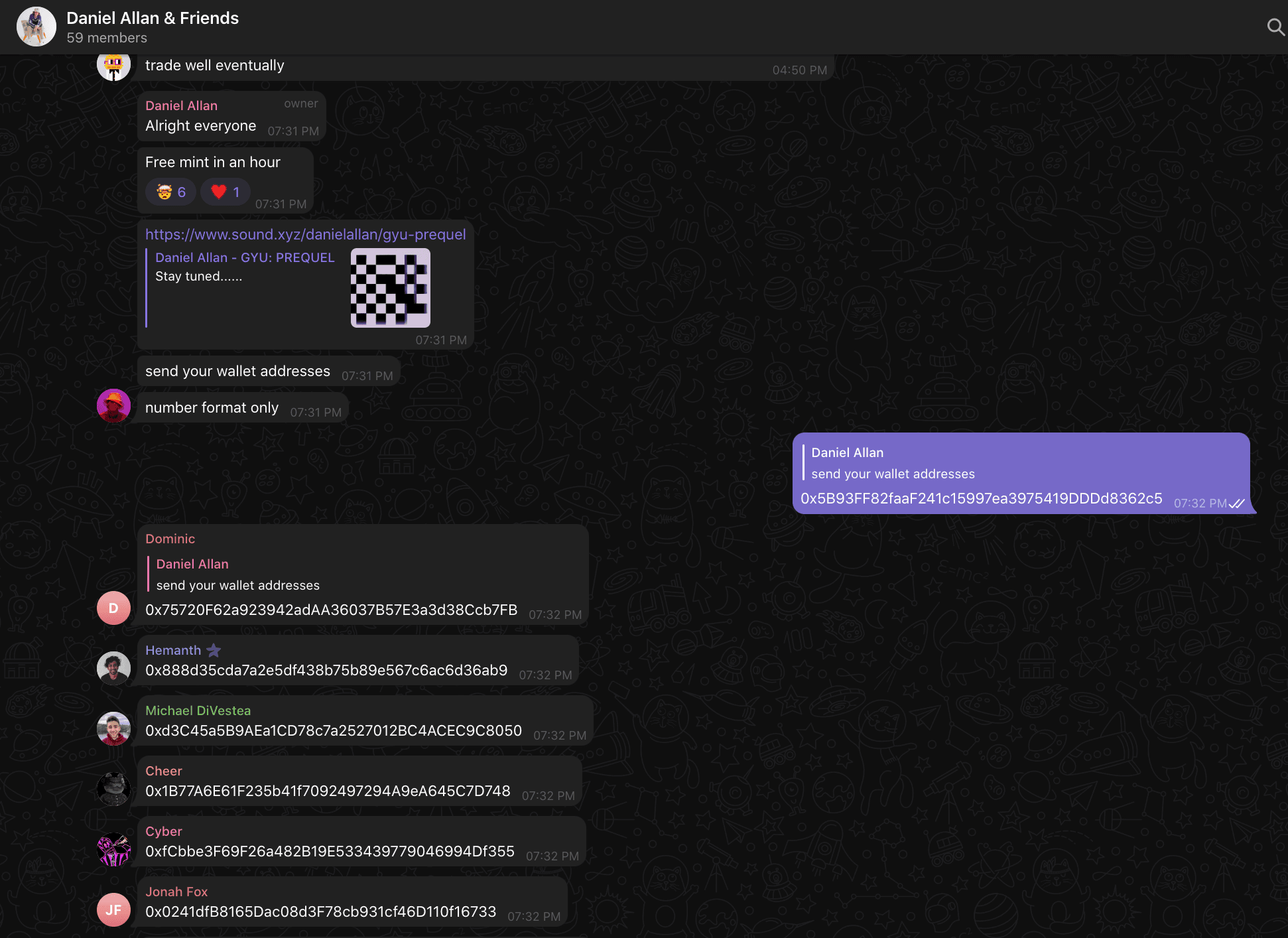 Then, they launched a Criteria collector chat for anyone who held one of their NFTs. This became the source of communication for the week leading up to the release.
Come announcement time - they had everything dialed in.
Album mint on Sound

Virtual concert on OnCyber

Artist website on Bonfire

Custom skin on Spinamp

Sample pack on Arpeggi
All of these activations were planned weeks in advance, giving partners a chance to create custom assets and showcase their support in a way that felt native to them.
Each activation was accompanied by its own individual Tweet Storm - shining light on each partner and what made it unique.
Daniel played a show in LA the week of the drop and they hosted an IRL listening party the night of the release.
The result? 2500 editions on Sound. The most in one project to date.
It was a full-scale effort. It separated them and moved them up to 2nd and 3rd on the all-time Sound charts respectively.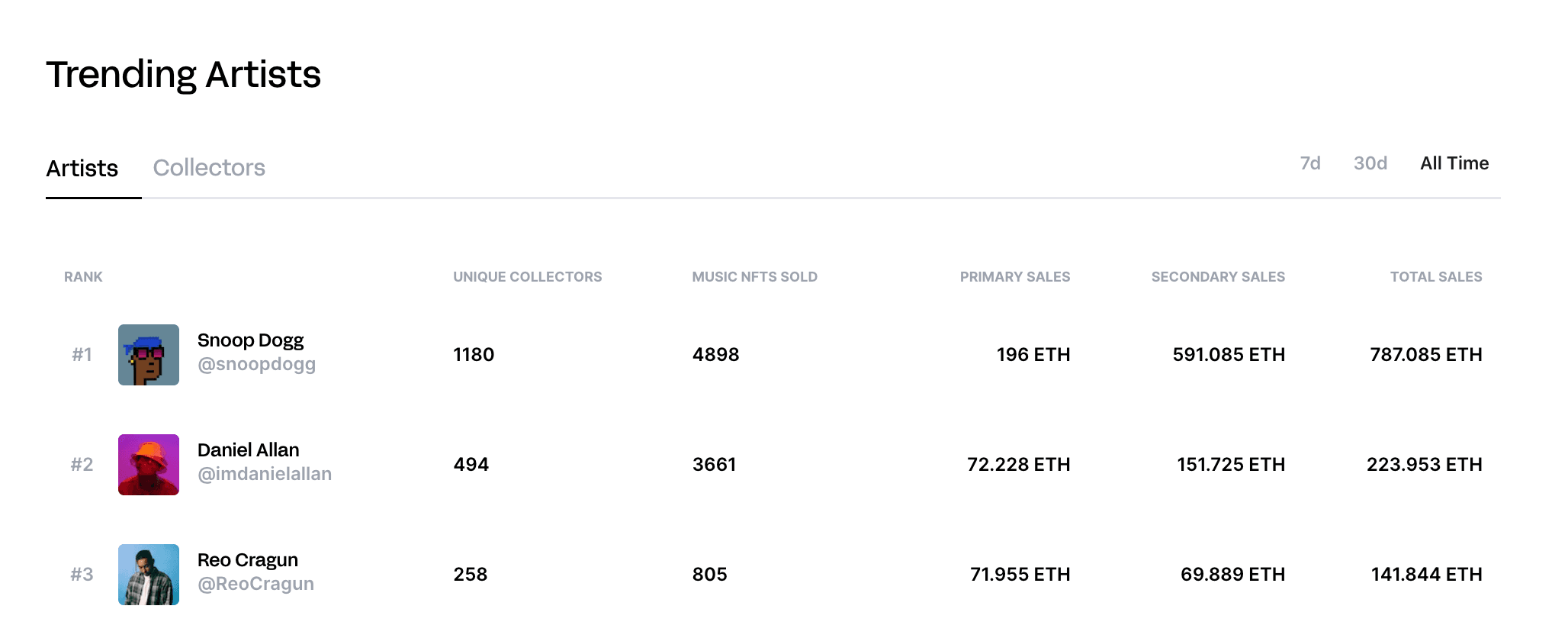 If you're reading this - challenge yourself to have your Criteria moment.
Honorable Mentions
There are multiple artists who have shown similar trajectories.
A few notable projects and collections to study include, but are not limited to:
There's something to learn from each of them - please take the time to deep dive!
What Collectors Say
These are merely my personal opinions.
I asked some top collectors - what distinguishes the caliber of artists in the space?
Here were some of their responses.
"I'd probably give a "Rick Rubin" answer here haha. For me, it's entirely subjective, and I appreciate a wide variety of styles. It's entirely based on the music, how interesting or impactful I think it is, and not based on social factors or metrics." - STVDIO NOUVEAU
"Uniqueness in their music, the way they're releasing music. and they way they engage and grow with the community. And how often they Gm." - BlockchainBrett
"I view Reo as the gold standard. He's an active collector, community builder, and artist collaborator. Plus I'm always looking forward to his next drop no matter what's going on. He never misses as an artist or curator." - Crittie
"Music first and foremost. But I would probably also add consistency and commitment to the space. I like to know they're going to be here in 12 months - as much as you can guess" - MusicBen
"Releasing music or projects that grow the music NFT community as a whole (creating a strong collector base, releasing music as a collective, onboarding new artists, experimenting with new things like Astro introducing the burn mechanism, etc.) Extra plus if they reflect on their web3 music journey and share it (Dot and Verite have done this for example)." - 0xZao
"Quality of music, overall presence in the space, willingness to experiment & embrace web3 ethos, community building" - BrokeInvstr
"As simple as it sounds, the mix is a dead giveaway to distinguish caliber and you can hear it right away. other than that I feel like a good gauge is people going after it on multiple fronts. from what I can see those that are all/only web3 generally don't stack up as well to those that just use web3 as a tool" - JarrodT
"Aside from a connection to the music itself, off-the-cuff for me it's "inclusiveness", in regards to both 1. the artist being open to experimenting with new tech and other artists and 2. the artist including fans in their success that deserve it." - Jason Meinzer
"Music comes first. But one aspect of web3 artists that differs from traditional artists is their ability to tap into creativity on the business side. When I see an artist being creative and forward-thinking with their drop dynamics, partnerships, leverage of IP, etc. - that's what sets an artist apart in the web3 space." - DJake
So - with that in mind, here's to the next generation of artists in web3.
Those giving the space their all and learning every step of the way.
Hopefully this article provided some guidance on how to continue developing your brand in an unknown world.
And until then - I'll keep collecting.