Growing up I always had one goal.
Make a living by supporting great music.
Today - I'm proud to announce Coop Records Fund I - a $10M early-stage fund investing in the next generation of music.
Here's what you need to know.
The Thesis
Music is a difficult industry to invest in.
As someone who's consumed music their whole life, there have been very few opportunities to participate in the growth of the artists that I love the most.
What if you could be an early investor in SoundCloud or Spotify? Universal Music Group or Roc Nation? Drake, Post Malone or Illenium?
Web3 gives us that opportunity - and that's why I'm starting a fund to invest in music.
Why Now
Web3 creates new monetization models for music.
There's a common misconception that NFTs are meant to replace streaming - I believe this is incorrect.
Streaming is a growing industry, and it will continue to grow in the coming years.
But what about markets for patronage? For those who want to go deeper than adding a new release to their playlist?
That's where Music NFTs come in.
Music NFTs are a net new revenue stream - the first of many offered by web3.
We're already starting to see it with a growing class of web3 artists - many of which are making multiples more income off of NFT sales than streaming.
The best part? These worlds will continue to co-exist. Music is only getting more valuable. And you have a chance to own it.
And how is that done you might ask?
Enter the Music NFT Landscape.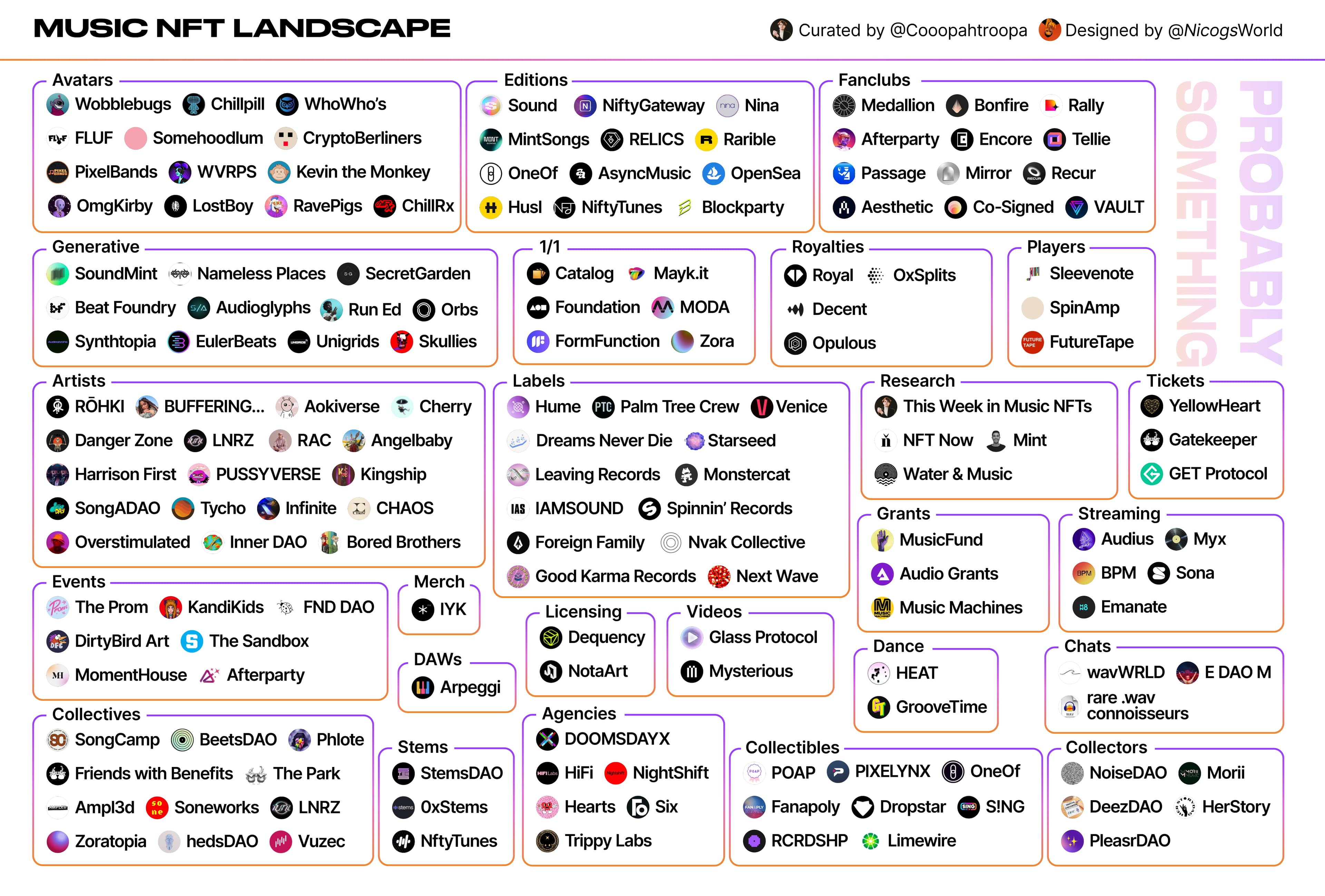 This ecosystem will continue to grow as we start to see composability help platforms better coexist and work together.
Introducing Coop Records
Coop Records is a $10m early-stage fund investing in the next generation of music.

We invest in platforms, protocols, artists and tokens uniquely enabled by web3.
Think of Coop Records as a hybrid between a web3 venture fund, a record label, and an incubator.
We work directly with founders and artists to build products which create new revenue streams.
And here's why.
The Big Picture
We should be able to invest in our favorite artists.
Web3 makes that a reality, and Coop Records will fund those opportunities.
I believe that artists can be CEOs if they choose to be. CEOs run companies, and companies have investors.
Why should artists be any different?
What if instead of selling your songs to a label, you sold part of the company that made the songs to investors?
This is the focus of what Coop Records is calling "Artist Seed Rounds".
What if artists raised capital to build an ecosystem for their fans?
What if they didn't need to sell their masters, and instead maintained majority ownership while getting capital from long-term partners?
What if they sold equity in their company instead of the rights to their catalog?
It would allow them to experiment more freely. To build a team and build products.
Coop Records is excited to explore these opportunities.
We're looking to invest in artists.
Artists as Investors
Now you may be thinking - most artists would be terrible to invest in.
But what if there was more education and culture around investing?
What if instead of artists only spending money on making music, they started to invest in the companies they work with?
It makes sense that the biggest artists on Spotify should have equity in the company - right? This is the Ownership Economy at its finest.
This is why Coop Records is bringing on a select batch of trusted artists as investors in the fund.
To show successful artists that there are ground-floor opportunities, and that they have the ability to own parts of them at the earliest stages.
Again - this profile is not for everyone. Many artists just want to make beats, and that's totally fine.
Coop Records exists to take investing in music companies easy and exciting.
Angel Investing
Over the past 18 months, I've been fortunate to invest in incredible companies including but not limited to:
I believe that all of these investments are building key infrastructure that will power the adoption of web3.
While not all of them will pan out, it was a great way to build relationships with founders and learn what it means to be a value-added investor.
Now - I'm ready to take it to the next level.
Disclaimer: This is a potentially non-representative selection of 15 angel investments made over an 18 month period. For other important disclosures and information about Coop Records, please visit cooprecords.xyz.
Why Coop?
I've worked in music for 10 years, and web3 for 5.
I was a curator for ThisSongIsSick, went to school for Music Business, was a DJ, an artist manager and have developed a growing network within the music industry - including some of my favorite artists and operators.
I was a co-founder of Friends with Benefits (shoutout Trevor and the early FWB crew), a former venture partner at Variant (special thanks to Jesse Walden and Li Jin for encouraging me to start Coop Records) and an active advisor across leading web3 music projects like Audius (wouldn't be here without Roneil being such an amazing mentor).
Thanks to my colleagues at Fire Eyes DAO (gg to James, Callum and Lucas), I've been lucky to contribute to the token launches for ENS, Optimism, Gitcoin, SuperRare, Seed Club, Forefront and many more.
Tie it all up, and I feel equipped to put web3 music on the map.
Get Involved
Coop Records is a small company. I'm a Solo GP and we're keeping things lean and efficient.
We're on the lookout for new projects, and to help artists new to web3 find their footing.
To stay up with the latest - subscribe to my newsletter This Week in Music NFTs.
To share new projects and discuss new investment opportunities - reach out via email at coop@cooprecords.xyz.
Lastly - I'd like to thank everyone who's helped me on my journey thus far.
Most people think I'm crazy for doubling down on a niche that feels so small today.
But truthfully - I've never felt closer to my purpose, and that triumphs any amount of likes, money or status.
To the next generation of music - let's jam.